Every new driver's license holder learns at the driving school: Before starting a ride with a trailer, a so-called "departure check" must be carried out to ensure road and operational safety. This essentially includes checking the lighting system of the trailer. Procedure: A second auxiliary person is usually needed. The auxiliary person switches the individual light functions in the front of the vehicle after the driver has called up the function. The driver in charge stands behind the trailer and checks the function of the lights.
NEW with EasyTrailerCheck (ETC): No assistant necessary.
The driver activates the ETC: ignition on, hazard warning lights on. The driver checks the light functions independently and conveniently without any effort behind the trailer.
To make it easier to learn the test procedure, a manual instruction card similar to the following illustration is enclosed. This can simply be attached to the sun visor until the function is internalized.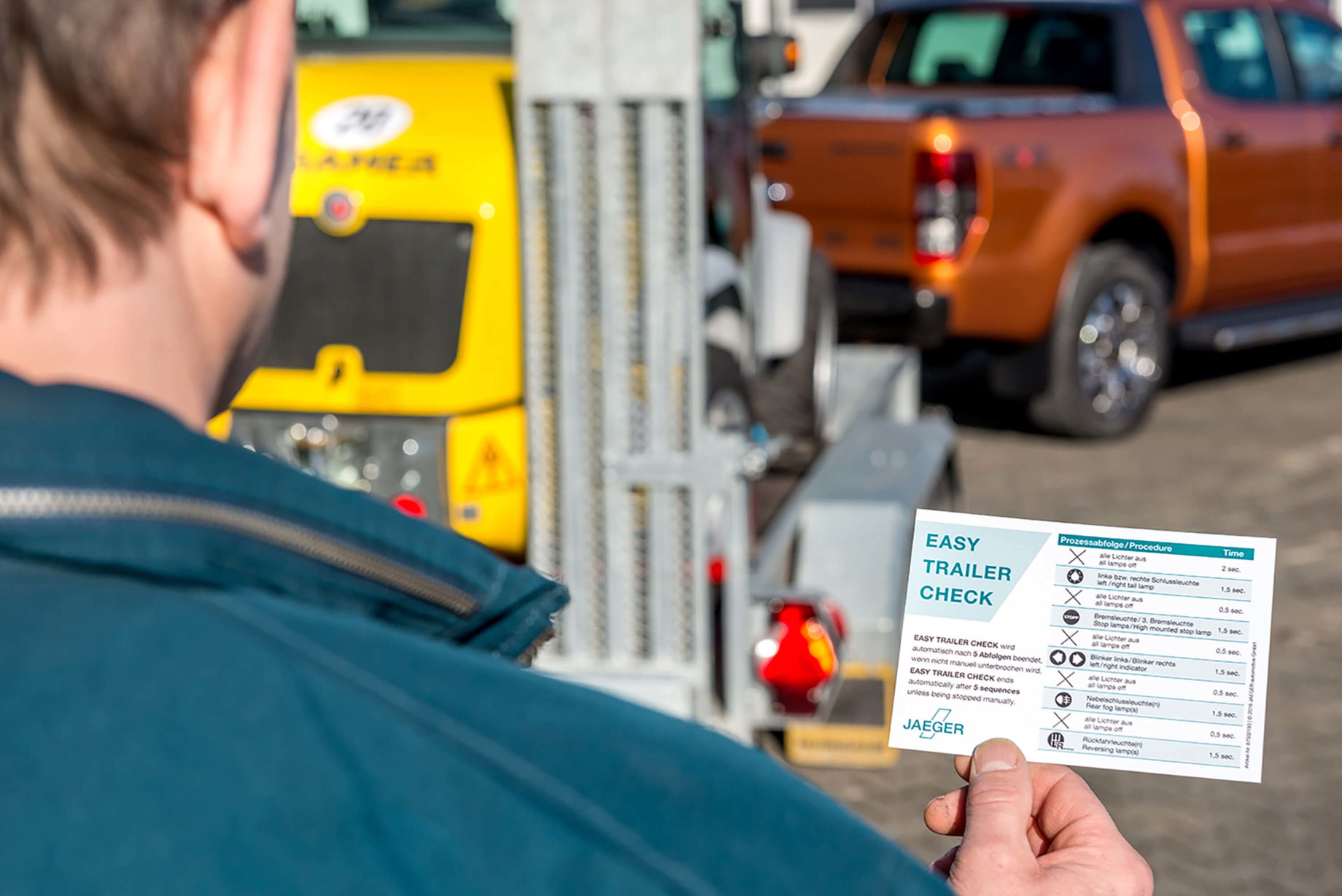 Starting as of 2017, JAEGER automotive introduced the new generation of CFC trailer control units for CAN bus vehicles in its electrical kits. They now include the EasyTrailerCheck function. This feature is gradually being added to the current collection and new designs of the PREMIUM program. The PREMIUM product collection is thus significantly upgraded without any additional cost. Upgrading option: If a vehicle has been equipped with a wiring kit from JAEGER automotive and a conventional control unit without EasyTrailerCheck, the control unit can be exchanged for an alternative 2017 model with ETC function. Procedure: Contact JAEGER automotive for an ETC upgrade, by providing the 8-digit model number found on the old control unit.